Nestled within the heart of a pristine wilderness, Angata Migration Camp offers a remarkable and immersive safari experience in East Africa. The Angata Migration Camp is carefully designed to harmonize with its natural surroundings, creating a sense of seamless integration with the breathtaking landscapes that stretch before it.
Canvas tents, elegantly furnished with local touches and modern comforts, dot the campsite. These tents provide a blend of rustic charm and luxury, allowing guests to feel intimately connected with nature while still enjoying the convenience of well-appointed accommodations. As the sun sets, the gentle glow of lanterns and campfires casts a warm ambiance over the camp, enhancing the feeling of being transported to a different era.
Angata Migration Camp is strategically situated to provide easy access to the region's diverse wildlife. Guests can awaken to the symphony of birdsong and venture out on guided safaris, where they might encounter majestic elephants, graceful giraffes, and a plethora of other intriguing wildlife species. The knowledgeable guides, intimately familiar with the area, share their insights and stories, adding depth and understanding to every encounter.
Activities Angata Migration Camp
See all the possible shades of Sunrise from the rooftop of hotel
Have a most delicious breakfast
Accommodation options at Angata Migration Camp
Single King size Bed Tent
  Bed Type  |  Comfy beds
  Area  |  Serengeti

  Full Board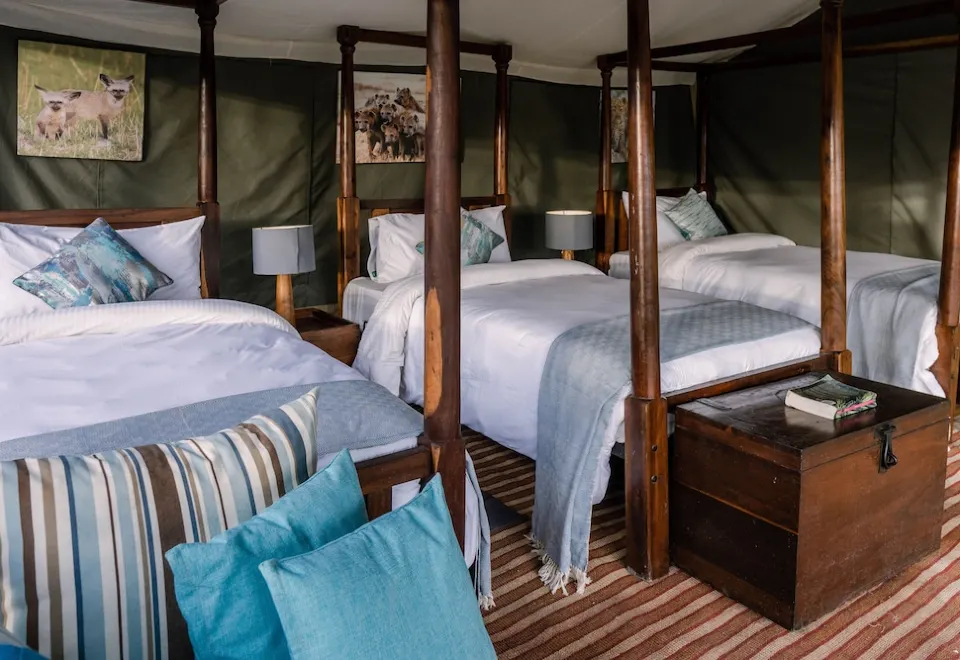 Double or Triple Bed Tent
  Bed Type  |  Comfy beds
  Area  |  Serengeti

  Full Board 
The Angata Migration Camp Prices for your chosen travel dates may vary depending on the season of travel. Please feel free to reach out to us for more information on the final price.
Ang'ata Migration Camp on the map
The camp's communal areas invite guests to unwind and connect with fellow travelers. A central lounge area, adorned with indigenous art and comfortable seating, serves as a gathering point where stories are exchanged and memories are created. The dining area offers a culinary journey that celebrates both local flavors and international cuisines, ensuring that every meal is a delightful experience in itself.
The best way to see the extent of the Migration as it gathers on the shores of Mara River is going on an early morning Hot Air Ballon ride before your day's Game Drive. Ballooning to be booked in advance via our reservations officer. Please contact us for pricing and details.
Ang'ata Migration Camp located near the Bologonja Ranger Post our camp is an hours drive away from Mara River where you can witness the world famous River Crossing, with Nile Crocodiles laying in ambush and Big Cats on the shores awaiting the Migration from July to October.
Set in front of a big plain you will most certainly be in the company of thousands of Wildebeest while enjoying your cup of tea in front of your tent.
African Luxury Safaris Accommodations